Wow! Summer flew this year, didn't it? I can't believe that we're over halfway through 2011 and heading on a crash course into 2012.
As you've probably guessed we've re-launched and quite a few changes have taken place. The most obvious being our new template. We're also instituting a new posting schedule. We'll only be posting on Tuesdays, Wednesdays and Thursdays, but we've got some awesome things in the pipeline so we hope you'll join us then.
And the best news of all is we've added a new Oasis Sister! Please join me in welcoming the fabulous Larissa Hardesty.
You can check out her personal blog here, but as a quick run down she's a paranormal young adult writer and my CP. She has written one book, LURE, about a book that has a whole town addicted to the point that they are quite literally reading themselves to death and the reluctant hero who has to embrace his native American ancestry in order to save them. And is working on another called SUCCS—about a girl who believes in love, romance, and candle light dinners, but she finds out she's a monster after almost killing her first date during their first kiss and happily-ever-afters don't exist for this kind of monster.
And now onto our regularly scheduled post. Our first TBR book after our hiatus is SILENCE by Becca Fitzpatrick.
SILENCE is the third book in the HUSH, HUSH Saga and releases October 4, 2011 so LESS THAN A MONTH! WooHoo!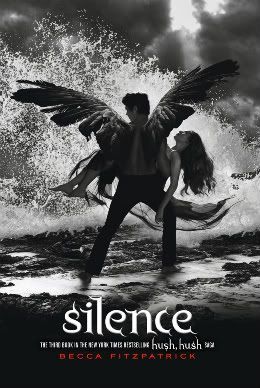 The noise between Patch and Nora is gone. They've overcome the secrets riddled in Patch's dark past...bridged two irreconcilable worlds...faced heart-wrenching tests of betrayal, loyalty and trust...and all for a love that will transcend the boundary between heaven and earth. Armed with nothing but their absolute faith in one another, Patch and Nora enter a desperate fight to stop a villain who holds the power to shatter everything they've worked for—and their love—forever.
And to get you in the mood…and to welcome you back to our blog, we're giving away a Hardcover copy of CRESCENDO, which is book 2 in the series.
All you have to do to enter is make sure you're a follower of the blog, and comment in the comment's section about what you did for your summer vacation. You get extra points for blogging and tweeting about it. +3 for blogging , +1 for tweeting (make sure to mention us @oasisforya in the tweet), for a total of five entries. Make sure to add them up and put them in your comments section. Winners will be drawn at random by random.org and announced next Tuesday. You'll have 48 hours to claim your prize before we draw another name/number from the comments.
Unfortunately this contest is only for US residents. Sorry. :(